I ARISE TODAY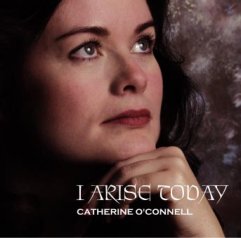 So many people have helped me on this project; Victor Sanders, recording engineer extraordinaire; Laura Kutscher-Dankler, pianist with a heart; Jimmy Moore, guitar, whistles, bass, banjo, songwriter, arranger and shaman; Dennis Cahill, guitar, mandolin and technical advisor; Sean Clelland, violin and baritone violin; Steven Houser, cello and cello sextet; John Williams, concertina, accordian, whistles & flute; Thomas Yang and Chicago Musical Connection; Jeri-lou Zyke violin and Liz Holtzman viola; Kathy Cowan, Laura Higgins, Old St. Patrick's Choir Members: Aubrey Tokarz, Ellen Fearon, Maura Stefanik, Terry Coogan, John Gubbins, Rich Havansek; John Kirchner, Joe Tokarz, and Russ Wunderlich under the direction of Bill Fraher for background vocals; Urszula Lukaszuk's beautiful graphic design and Daniel Kelly's website design of www.CatherinOConnell.com.
Thanks to Tom Kelly, John and Mary Madden, Dolores Connolly, Dan Casey, Catherine Sheridan, Jack Hanlon, Mary Ellen Nelligan, Jay Kozie, Melanie Peterson, Jack Gray and Richard Dreihaus for their generosity; Fathers Jack Wall, John Cusick, Tom Hurley, Paul Novak, and Angel Sierra, all the staff, Bill Fraher and the choir at Old St. Patrick's, Mary Prete who started me in this business, Jim Corboy, who jumped in at the eleventh hour and made so many things happen and all my friends who've given me the nudge I needed to complete this project.
My boys; Neil, Brendan and Gavin, sainted mother, sisters, brothers, in-laws, out-laws, nieces, nephews, aunts, uncles, cousins; And Jim O'Connell, my dad, who taught me to sing with 'a tear in my voice' and how important it is to tell the story.
GOD BLESS ALL OF YOU!